AmbirScan Receipt Software
Managing your finances has never been easier. With a single scan, streamline your bookkeeping, keep track of daily purchases and take the hassle out of creating expense reports.
Unlimited Scans
With no hidden fees or monthly subscription required, you have full access to scan an unlimited number of receipts at any time.
Automatic Data Extraction
Using OCR technology, extract data including vendor name, date, tax amount and total amount for a more efficient way of tracking your receipts.
Easy Import and Export
By utilizing the industry-standard CSV/Excel format, AmbirScan Receipt allows for the easy export and importation of expense data into hundreds of 3rd party software solutions including QuickBooks, Quicken and TurboTax.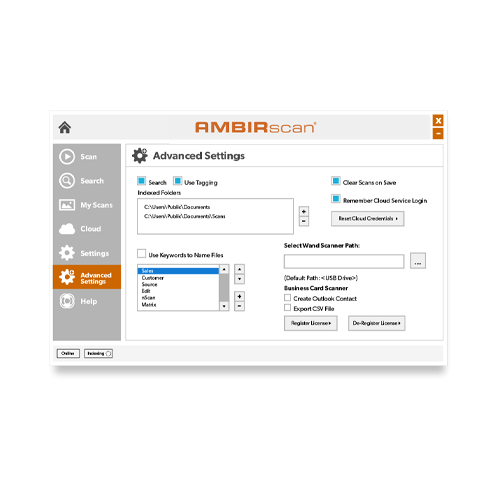 Bundled with AmbirScan
AmbirScan Receipt comes bundled with our AmbirScan software providing a complete scanning solution. Whether it's a receipt, invoice, document or card, simply place them into the scanner and let the automated feeding mode capture each item as it's inserted.
AmbirScan Receipt Software
Eliminate paper clutter and manual data entry errors with AmbirScan Receipt. See what AmbirScan Receipt Software can do for your business today.
Purchase Single License
SKU # AS700-RS
$49.95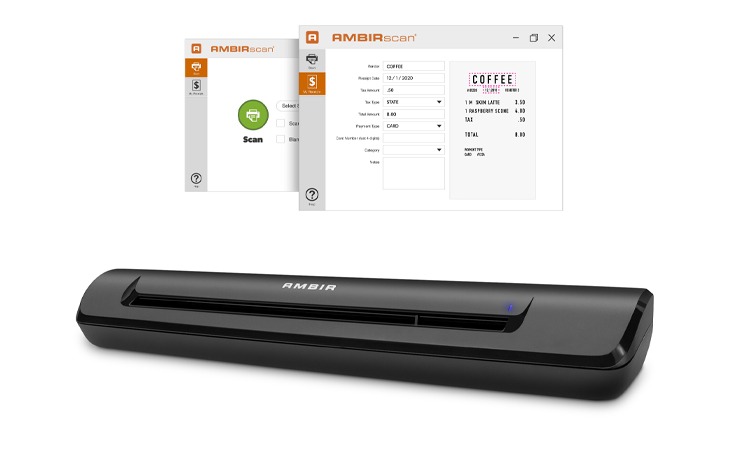 TravelScan Pro w/ AmbirScan Receipt
When you go mobile, the TravelScan Pro goes with you. It's USB-powered, so you'll never need to search for an outlet. And at just under a pound and just over a foot long, it fits in any laptop bag and never weighs you down.
SKU # PS600-RS
$179.95
nScan 700gt w/ AmbirScan Receipt
With an innovative design and compact size, the nScan 700gt is durable, portable and versatile, allowing for productivity wherever you go. This hybrid sheet-fed scanner with ADF capabilities offers top, front and back load scanning to ensure the best fit for your environment, making scanning individual cards or multi-page documents quick and simple.
SKU # DS700GT-RS
$299.95